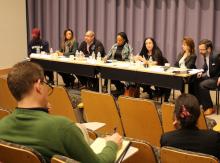 Students, faculty and New Haven educators and community members gathered at Yale's Luce Hall Auditorium on the afternoon of Wednesday, March 1, to participate in The Policy Lab's inaugural Common Read with Professor Carla Shedd of Columbia University.
A distinguished panel discussed Professor Shedd's book Unequal City: Race Schools, and Perceptions of Injustice. In Unequal City, Professor Shedd uses the experiences of youth, particularly their interactions with teachers, police, and parents, to uncover how they shape adolescents' perceptions of themselves and their wider social worlds. Professor Andrew Papachristos opened the event with a brief overview of Unequal City and introduced discussants.
Professor Andrew Papachristos opens the event. Photo by Zelda Roland.
Judy Puglisi, principal of Metropolitan Business Academy, kicked off the panel with her remarks. She shared her perspective informed by over thirty years of urban teaching experience ranging from early childhood through high school. She noted that in her experience, it is only when we shift away from punishment and compliance to support and development of students, that we start to see a shift in the safety of schools. The audience next heard from Jason Bartlett, who serves as Director of Youth Services and Liaison to the New Haven Board of Education in the Office of the Mayor. He shared from his experience as founder and Co-Chair of Youth Stat, which reengages disaffected and gang affiliated youth.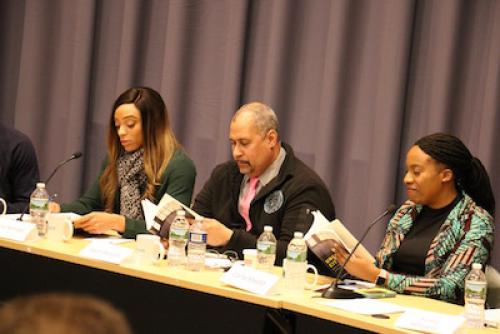 Detective Shayna Kendall (left) reads an excerpt from Unequal City as fellow panelists Jason Bartlett and Carla Shedd listen.
Kyisha Velazquez spoke about opportunities for creating synergies in community needs, like those created by her work as Associate Director of the VETTS Program at Integrated Wellness Group, matching military veterans with at-risk youth to provide one-on-one mentoring. Yale's own Abdul-Razak Zachariah, a senior studying sociology and education studies, then shared his experience as an alum of West Haven's public schools and his work as an after school instructor at the Cooperative Arts and Humanities High School. Detective Shayna Kendall of New Haven's Police Department wrapped up the panel with perspectives from her experience as a youth mentor and reflections on opportunities for building effective relationships with at-risk youth.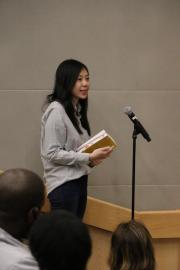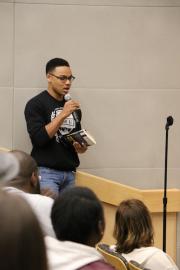 Tina Law (Yale graduate student), Greg Pollard (Yale undergraduate student) and New Haven practitioners contribute to the discussion.
Students, faculty, and New Haven community members had an opportunity to engage in the dialogue, sharing their own experiences and reflections on Unequal City and directing questions to Professor Shedd and panelists. The Common Read extended from The Policy Lab's mission to bring together Yale partners, local New Haven residents and organizations, government officials, and policymakers to inform policy discussions and to enable collaborative university-community policy partnership. The Policy Lab is poised to help improve local policy initiatives and make New Haven a national model of research-community partnerships.