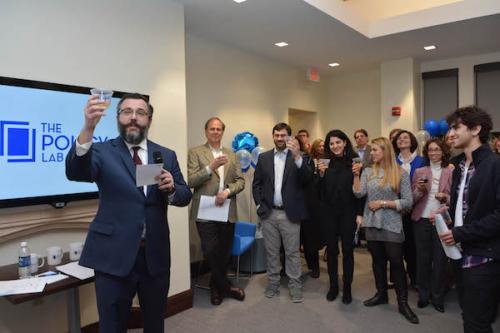 On Monday, January 23, Yale students and faculty, policymakers, and members of the New Haven community celebrated the opening of The Policy Lab at the Institution for Social and Policy Studies (ISPS) on 77 Prospect Street. 
The Lab is poised to help improve local policy initiatives and make New Haven a national model of research-community partnerships.
Jacob Hacker, Director of ISPS, provided opening remarks, and Peter Salovey, President of Yale University, spoke to the role of The Policy Lab as a "maker space" for the social sciences. Andrew Papachristos, Director of The Policy Lab, gave a celebratory toast and presented President Peter Salovey with a highly coveted Policy Lab lab coat.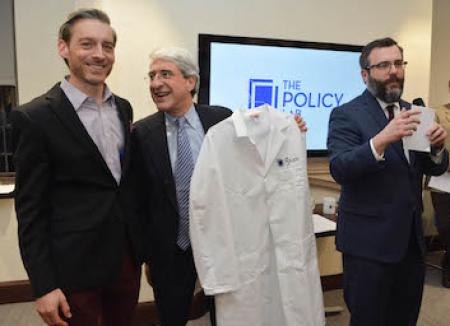 Jacob Hacker (Director, ISPS), President Peter Salovey, and Andrew Papachristos. Photo by Michael Marsland.
Afterwards, state representatives and members of community organizations spoke to the need for more data-driven research and evidence to support policy.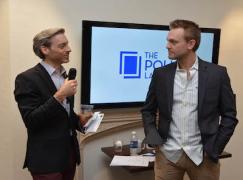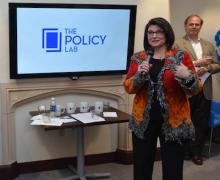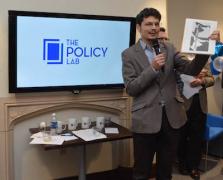 Jacob Hacker with Josh Elliott (CT State Representative for Hamden), Joy Johannes (New Haven Food System and Policy Director) and Mark Abraham (Executive Director, CT DataHaven). Photos by Michael Marsland.
The Policy Lab is a student-focused university-community partnership, and several members of student working groups were in attendance to discuss their ongoing projects. Zelda Roland and Stella Shannon described their work with The Policy Lab to develop an evaluative tool to study the impact of prison education programs.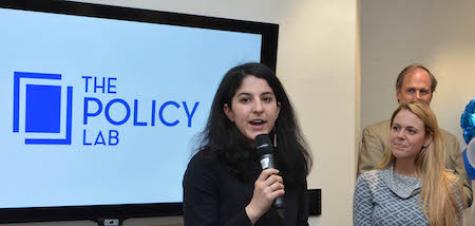 Zelda Roland and Stella Shannon from The Policy Lab Prison Education working group. Photo by Michael Marsland.
The Policy Lab released a working paper last week from a second working group that is studying the victims of gun violence in the New Haven area.  Two authors of the research, Tina Law (graduate student in Sociology) and Simone Seiver (Yale undergraduate), described their experience collaborating with Yale students, faculty, and community groups on the project.
To get involved with The Policy Lab, please contact us and follow @YalePolicyLab on Twitter.