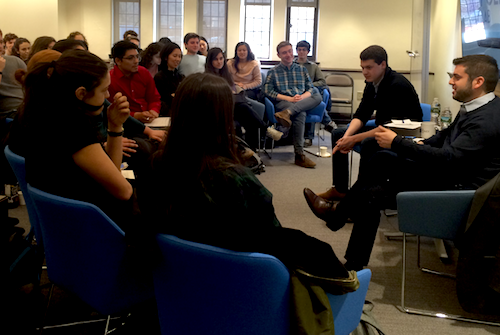 Dan Schwerin, Director of Speechwriting for the Hillary Clinton Presidential Campaign, spoke to a packed crowd of students and faculty in The Policy Lab on Friday, January 27.
During the event, Schwerin described the process of developing a campaign message and communicating Secretary Clinton's policy agenda. He fielded students' questions about how the campaign adapted to events and shifted the message over time.
Schwerin also spoke about the difficulties of getting media to cover policy during the campaign, pointing to a recent report from the Harvard Kennedy School's Shorenstein Center on Media, Politics and Public Policy that indicated only 10% of news reports in the campaign discussed policy stands.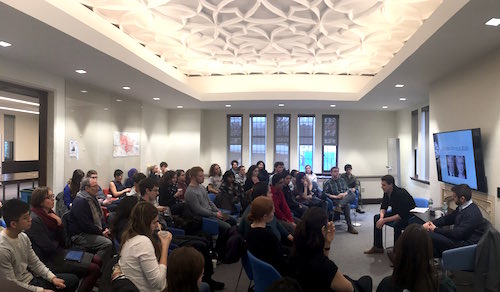 David Shimer, Editor-in-Chief of Yale Daily News, introduces Dan Schwerin at The Policy Lab
Schwerin concluded with an empowering message. Reminding the audience that elections "have consequences," he encouraged those in attendance to take action and engage in the political process. 
After the event, Schwerin spoke with students and offered advice on beginning a career in politics.
Dan Schwerin speaking with Yale undergraduates after the event.
Dan Schwerin was Director of Speechwriting for Hillary Clinton's presidential campaign and also served as an advisor on policy and strategy. Previously, he collaborated with Secretary Clinton on her book, "Hard Choices," and was a speechwriter at the State Department and an aide in her Senate office.  He graduated from Northwestern University.