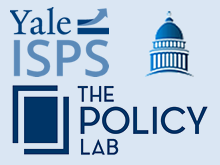 Professors Alan Gerber and Jacob S. Hacker seek a postdoctoral or postgraduate associate for a one-year, full-time appointment starting in July 2021 (depending on availability).  The position is for a researcher with interests in domestic policy-related domains with a desire to help develop new collaborative educational and research opportunities for Yale undergraduate and graduate students at ISPS, housed at the Institution's "Policy Lab."  In addition to pursuing his or her own individual research agenda, the successful candidate's responsibilities will include assisting Professors Gerber and Hacker in the development of a new collaborative research-policy initiative, mentoring undergraduate and graduate researchers and undergraduate interns, helping to organize guest speaker and policy skills training workshops, and working with city-, state- and occasionally national-level policy makers.  The postdoc may also have an opportunity to teach a course.
Technical skills—such as statistical and computer skills and understanding of social science methods—are highly desirable.  Excellent organizational and project management skills are a must.  Applicants should have a Ph.D. or equivalent professional degree at the time of hire.  Outstanding candidates with a Master's Degree in Public Policy and/or Administration will be considered as well.  Salary is negotiable and will be commensurate with experience.
Yale University is an Affirmative Action/Equal Opportunity employer.  Yale values diversity among its students, staff, and faculty and strongly welcomes applications from women, persons with disabilities, protected veterans, and underrepresented minorities.
Review of applications will commence on May 15, 2021 and will continue until a successful candidate is identified.  Application materials include a cover letter, curriculum vitae, and contact information for three references (who would be contacted during the final stage of consideration).  Please apply online at Interfolio: https://apply.interfolio.com/86755.  
Please visit the following website link to learn more about ISPS: https://isps.yale.edu/.